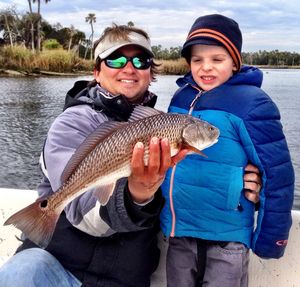 I'm happy to report that there is NO Snow here in Crystal River, FL and I for one wouldn't know what to do if I did encounter some of that white stuff. Many of my northern customers tell me that snow is extremely beautiful and a blast to play in. I can't help but think that this is the denial coming out for those that have not seen the sun in days and in some cases even weeks. Although the Nature Coast may not have the best weather on the planet the sunny 60 and 70 degree days are a welcomed treat for everyone that's visiting the area.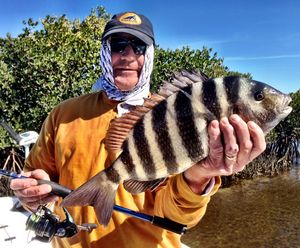 It's this great weather that has really helped jump start a variety of great bites up and down the Nature Coast. The Sheepshead fishing has been the major staple on our local waters since the beginning of December. Typically the best Sheepshead action of the year is featured in February as the remainder of these prespawn fish seek out their spawning destinations. Although the cooler weather of November pushed many Sheepshead offshore to spawn early, now with the latest warming trend many of these fish have begun arriving on their rocky feeding grounds and are ready to eat any oyster, crab, or shrimp put in front of them. This is great action for kids and adults alike!!!!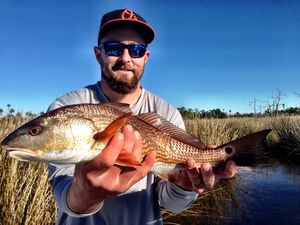 With this latest warming trend many Nature Coast anglers will soon find out that the backcountry action for Redfish, Sheepshead, Black Drum and Speckled Trout will really begin to take off. In recent weeks many hefty size Redfish have started schooling together at low tides and feeding in areas of deeper water. Finding these large schools of fish is as easy as driving your boat around and waiting to see these huge schools of fish rise up off the bottom and move out of your way. When looking for Redfish in such extreme shallow water a huge school of fish's push or even "wake" will be extremely noticeable as a red body of water moves away from you. A great tactic when targeting these large schools in this fashion is to circle wide of a moving school followed by anchoring up in close proximity to hole or pocket where these fish are heading. All Redfish are ambush predators. When these large schools of fish move into a hole and settle down often they will eat whatever prey moves through or on the edge of these holes. If its possible to get ahead of these fish and throw cut mullet or ladyfish into the hole before the fish arrive this would be the best bet. If the school of Redfish makes it to the hole before you can get there think about tossing a free lined medium sized live shrimp into the school and watch what happens!!!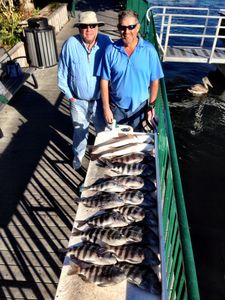 TIPS FOR FISHING THIS MONTH:
With great weather comes a plethora of opportunities. Now is a great time to get a child out into the outdoors to enjoy some great fishing. What may not be a desirable fish to you may be a record setter to a child. With our local Spring fed rivers still teaming with a ton of Mangrove Snapper and Ladyfish now is the time to set a child up for a future in the outdoors. You never know you may even luck out and your child could hook into a hefty Redfish, Speckled Trout, or Jack Crevalle and that would be a story worth telling. Just ask 4yr old Jackson who came down from Michigan to visit his grandparents and was rewarded with what he called "the biggest redfish he had ever see!" That's what fishing is all about.