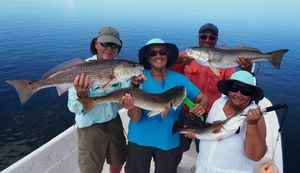 Welcome October!! How can you beat a month that ushers in great weather and fishing and ousts love bugs and humidity? October is the month that every angler up and down the Nature Coast has looked forward to since the start of summer. As the hot humid days of summer have passed, refreshing cooler weather will bring in a variety of species looking to forage before the start of our winter season.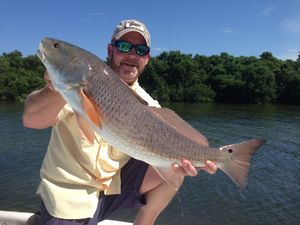 With over 20 different species of fish roaming our local waters this month coin toss decisions will be made to decide which species to target. With the best possibility of landing a SLAM occurring this month (Snook, Redfish, and Speckled Trout) most anglers opt to accomplish this feet before the cooler days of fall approach. When targeting a slam myself as well as my anglers strive to fish areas where all three species can be found. This time of year most Redfish, Speckled Trout and Snook begin to congregate in areas where a good flow of current will guide baitfish to their hiding areas. Cuts in Oyster bars, Mangrove Islands, River Mouths, and Channel Edges are all great areas to start searching.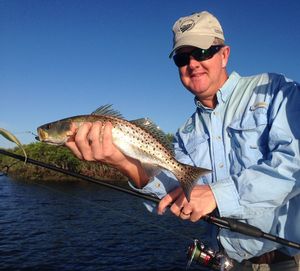 In order to be successful in catching anyone of these 3 species it is important to throw baits or lures that may appeal to both. All Snook, Redfish, and Speckled Trout love large shrimp, small crabs, and tiny bait fish. So throwing these baits or lures that mimic these baits is the key to being successful at attaining a SLAM. I for one encourage all of my anglers to use artificials when targeting these 3 species. Of course live bait will yield great results but the fact that we can cover a lot of real estate in a short period of time makes using artificial lures more appealing.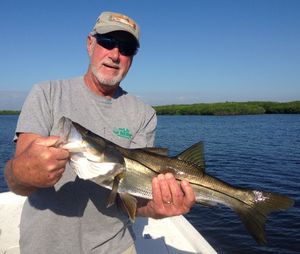 DOA Jerkbaits and Shrimp, Berkley Gulp! Shrimp, Johnson Spoons and Rapala SkitterWalks are my baits of choice. Depending on the situation and the type of presentation that is needed all of these baits can be presented in a variety of ways to appeal to all fish. This time of year when the pinfish and other bait stealers are not nearly as tough to deal with, soft plastic lures are the key. DOA baits and Gulps rigged Texas style and weedless tend to prove the best results simply because of their natural look and feel. I am a firm believer that when a fish blows up a soft plastic and feels the soft texture of the bait, that fish will be more apt to come back after the bait simply because of the feel of the bait (and it doesn't hurt that most of these baits have a scent impregnated into them). On the other hand Rapala Skitterwalks and Johnson Spoons can be casted a mile and force a hungry fish to decide whether or not it will pursue one of these agitator baits or just simply let it swim on by.
So with great weather finally hear and a ton of great fishing opportunities available up and down the Nature Coast think about hitting up your local tackle shop and giving some of these baits and areas a try!!! Or if you're interested in seeing some of this fast paced action for your self please feel free to contact Florida Fishing Adventures at any time.