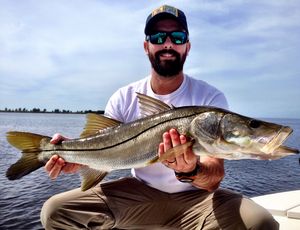 Happy April Everyone! Here along the Nature Coast the Easter Bunny has delivered us a plethora of beautiful Spring weather to go along with our consistently productive fishing days. As of late our local water and air temperatures have been hovering around the perfect 70-72 degree mark signaling that our Spring Fishing Season is well on its way to hitting its prime. And if the Redfish, Speckled Trout, Snook and Tripletail fishing action is any indication of where our season is heading, I will be looking forward to the arrival of the rest of our Pelagic Species.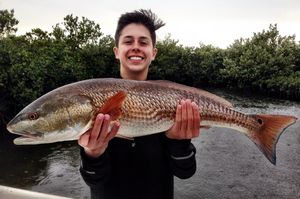 Pelagic Species such as Cobia, Spanish Mackerel and a variety of sharks including Hammerheads, Tigers, BlackTips, Bulls and my personal favorite Spinner sharks will soon be arriving on our nearshore waters as our warming air temperatures propel our local water temperatures. Over the next couple weeks an apparent warming trend will lead to this change in water temperature. Subsequently anglers hitting the water over the coming weeks will start seeing more and more baitfish and bird activity along the waters surface. This surface action is a sure sign that Spanish Mackerel are in the area and it will be these large schools of feeding Mackerel that will help to draw more and more Cobia and Sharks into the area. Targeting these situations is as easy as having a rod and reel prepared with either a light wire leader or 80lb+ mono tied onto a 5/0 thick wire live bait hook. Some artificials such as large jerkbaits and eels work well in these situations as well.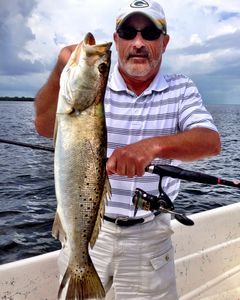 When we are not targeting the varieties of pelagics in Crystal River and Homosassa you will find most guides targeting the Big Three of the Backcountry. Redfish, Speckled Trout, and large Snook have all been the highlighted species over recent weeks. Targeting sandy potholes and oyster bars along our grass flats have led to some truly impressive catches. Most anglers are using a variety of topwater lures and twitch baits but the most consistent and exciting action has come when using soft plastic Jerkbaits. DOA, BassAssassin, and Berkley Gulp! Jerkbaits in Glow and Golden Brim are the preferred colors for our local waters. Rigging these baits traditionally using a 3/0 wide gap worm hook will more than suffice but as of late my anglers have found that nose hooking these baits with a 2/0 live bait hook has led to a better hook up ratio. The nose hook rig works great because the hook is actually placed at the intercept point for most hooked jawed fish (meaning most fish target the head of their prey). The key when working these soft plastics this time of year is to work these baits as erratic as possible with intermittent pauses in between retrieves. Often a hungry fish will stalk a jerkbait before the pause triggers the attack. When pausing wait for the EXPLOSIONS!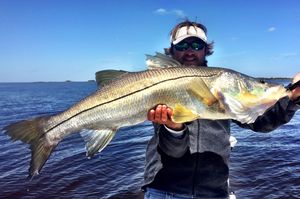 Speaking of Explosions! If you have never seen a Snook nail a Topwater lure or blow up on a Gurgler Fly you don't know what you're missing. Over the last decade more and more anglers are finding Snook more and more accessible to target. Although the Nature Coast is not known for holding a reliable population of whitebait, which is historically what Snook are targeted with in the waters of south Florida we still have a very healthy population that finds it hard to refuse a walk the dog style lure. Considering that most of our Snook population is fairly new in existence a majority of our Snook are well below the 28"-33" slot but our area still will feature great catches of true "LineSiders!" featuring fish over the 40" size mark. With most Snook looking to bulk up after the winter season now is a great time to hit the water to start the first leg of your Nature Coast Slam!