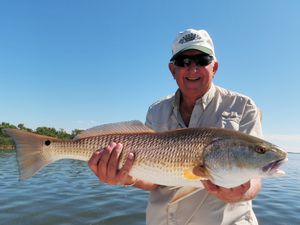 Well despite this most recent blast of rainy cooler weather the month of October is shaping up to be one of the more comfortable and productive months we've fished this year. With most days featuring a lower humidity and highs in the low 80's life is good when you're catching a ton of fish and not even breaking a sweat doing it.
As great as the weather has been the fishing has been even better. With great opportunities to catch Speckled Trout, Spanish Mackerel, Sharks, Bluefish, Flounder, Grouper and Snapper this has lead to a plethora of options on a daily basis off the flats of Crystal River and Homosassa. That being said the best bite of the month and maybe even of the YEAR, is going on around many of the local rock flats and oyster bars that are scattered through out the Nature Coast.
This is the time of year that I love to concentrate on oyster bars because the vast food sources attract all types of different species including Speckled Trout, Black Drum, and Flounder, but the real stars on these bars right now are the Redfish and Sheepshead. With tons of Shrimp, Crabs, Pinfish, Finger Mullet, and MudMinnows making up a buffet of options for these fish there is no wonder why these fish are staging around these bars no matter the tide or time of day.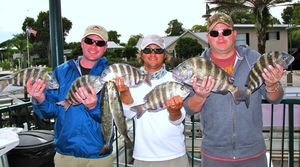 On some of these early morning high tides I have been targeting feeding Redfish on these bars using everything from Cut Mullet to jigs. However, one of the most successful techniques has been working topwater lures over these bars to trigger an extremely acrobatic bite from a normally bottom feeding fish. And for the Sheepshead chumming with live shrimp has been key in order to start a feeding frenzy that sometimes can last all day.
The true highlight of this bite is targeting these Reds and Sheepshead during the extreme lows in the tide. Now this can definitely be a little tricky considering your fishing in ankle deep water but the excitement of casting to a tailing Redfish or Sheephead is one of the most exciting opportunities found anywhere along the Nature Coast. When fishing for these 2 species the techniques used are almost identically the same, a free lined shrimp on a 1/0 hook or a 1/8 oz jig head with a small piece of shrimp. I normally only use a jighead if there is a little bit of a breeze because I have found that the added weight of the jighead allows anglers to punch a bait into the wind if necessary, but for all other occasions the light splash of a bare hook and bait are all the ingredients you need to ensure a bite from a foraging Redfish or Sheepshead.
So with Fantastic Weather upon us and 2 of the best fighting and best tasting fish tops on the list this month, you may want to consider spending a day at the bars and get your cure for that flats fishing hangover you've been having.