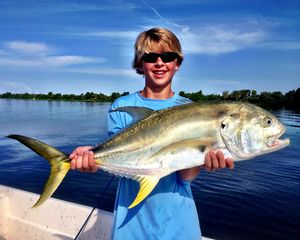 Finally, we can put the rainy and unpredictable weather of September behind us and welcome in the beautiful and cooler weather October has long been known for. October is the month that many anglers along the Nature Coast look forward to each year because it usually symbolizes the arrival of fall and the beautiful weather that ensues. Rain and thunderstorms will begin to give way to bluebird sky days which should chase away those soaring 90 degree temperatures and be replaced with very comfortable and less humid days. I for one look forward to wearing a sweatshirt in the morning before dawning shorts and short sleeve shirts during the rest of my day.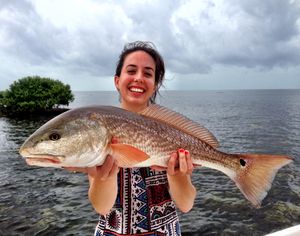 Although our local temperatures will start their slow decline the fishing found along the Nature Coast will be anything but. Are you interested in catching something BIG? How about something Tasty? What if there was a fish visiting the Nature Coast that could pull 100yds of line off your reel in a matter of seconds? Would that excite you? Well if you're interested in pursuing all three of these angling challenges then now is the time to hit the local waters of the Nature Coast. As diverse as our Nature Coast fishery is the next 2 months mark a unique time when a variety of both inshore and offshore species congregate together in search of the masses of baitfish that come into the shallows to feed in hopes of fattening up ahead of the winter months. There is nothing like fishing for Redfish along one of our crystal clear flats only to be diverted to chasing after Huge Schools of Feeding Bonita or Jacks crashing bait schools.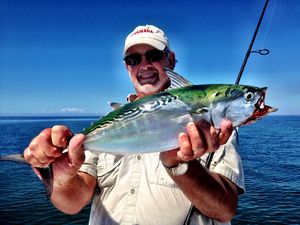 Hands down one of my favorite fish that swims our local shallow waters are Bonita. As a member of the Tuna family these fish are built for speed. When these fish make their fall arrival they tend to arrive in force and are willing to eat any bait fish that moves. This time of year with some of our local bait pods approaching acres in size, Bonita have more than enough prey to pursue. An added bonus when fishing these huge schools of feeding fish is that you never know what other types of predatory fish may show up in the fray. Cobia, Tripletail, Mackerel, Bluefish, Huge Jacks, and a variety of Sharks are just a few of the other visitors one can expect when running and gunning from feeding frenzy to feeding frenzy.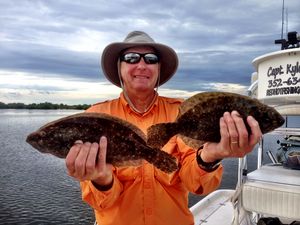 Although Bonita are widely known as a hard fighting sport fish and not necessarily a food fish, for those anglers looking for a true delicacy to put on their plate our Summer Flounder season will be peaking this month. Fishing for Flounder is not necessarily known as the most heart stopping action in the world of fishing here along the Nature Coast. But what it lacks in excitement it more than makes up for in accomplishment both on the water and on the plate. This time of year the best places for targeting Flounder continue to be along sharp drop offs in close proximity to sandy or chopped up bottom. A Flounders camouflage is its best bet for scoring a meal and these fish typically seek out areas where they can utilize this strategy. Slow jigging or drifting with Live Shrimp will yield some of the best results, but to score a true "Doormat" sized Flounder casting small free lined Pinfish or MuddMinnows along an oyster bar will surely get the attention of these larger ambush predators.
LONG STORY SHORT: GREAT WEATHER AND GREAT FISHING ARE HERE TO STAY. INSTEAD OF READING ABOUT IT, GET OUT ON THE WATER AND ENJOY SOME OF THE BEST FISHING FOUND IN THE STATE OF FLORIDA.