Reel Florida Fishing Charters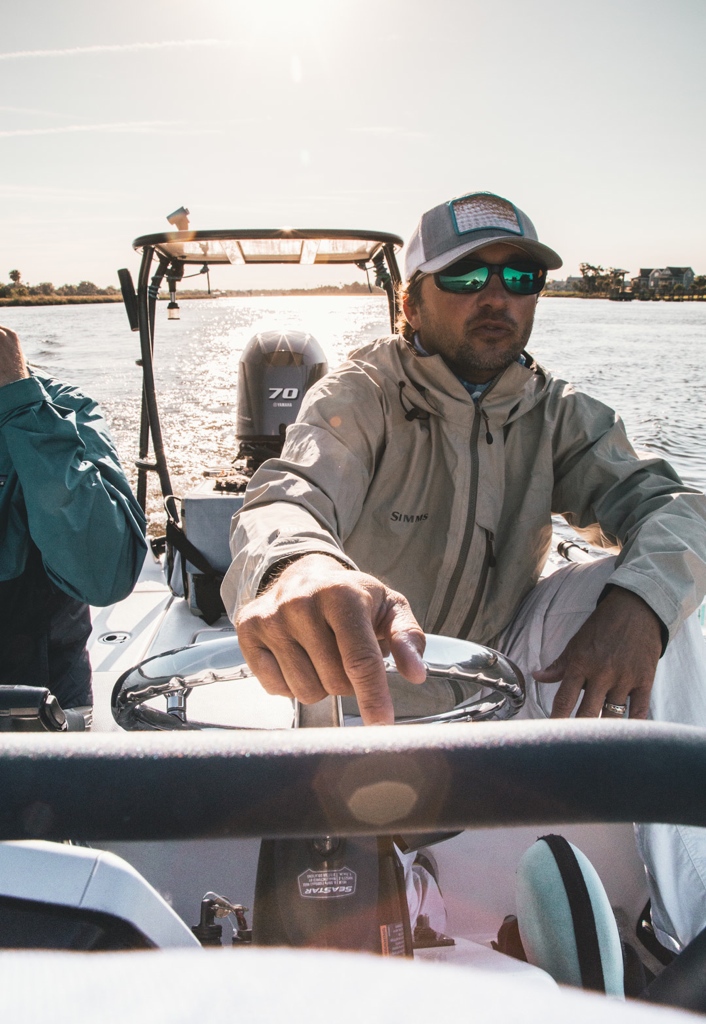 Capt. Kyle Messier is a Coast Guard Licensed Master Captain and a true local of the Crystal River and Homosassa areas.  He's also an Orvis and Umpqua PRO fly-fishing guide and casting instructor. 
Growing up on and around the water has provided him with a plethora of experiences and memories, which he enjoys sharing with his clients on a daily basis.  As a teenager he found that an early career in the commercial fishing industry provided him an opportunity to log countless hours on the water focusing on fishing patterns and migrations that occur yearly along the Nature Coast.  Poling a mullet skiff for 7 years was extremely beneficial but it wasn't his true passion.  His true passion was poling a flats skiff and sight fishing for Redfish, Speckled Trout, Tarpon, and Tripletail up and down Florida's west coast.
Capt. Kyle opened his first charter company Red Hot Fishing Charters/Florida Fishing Adventures in 2002 and grew it into one of the most successful charter businesses along the Nature Coast (now called Reel Florida Fishing Charters).  At first this was simply a means to supplement a fishing habit and help pay for college but as the years progressed his enjoyment of watching excited anglers come from all over the world to fish in his "backyard" overjoyed him.  "As the years went on I realized just how truly lucky I was to have access to such a beautiful year round fishery like the Crystal River and Homosassa."
His passion for the outdoors and his intimate knowledge of the area are what has helped him become one of the most dynamic fishing guides in Florida.  And that is what you get every time you step foot in one of Capt. Kyle's flats skiffs, a passionate captain whose love is the water and whose job is to cater to his clients.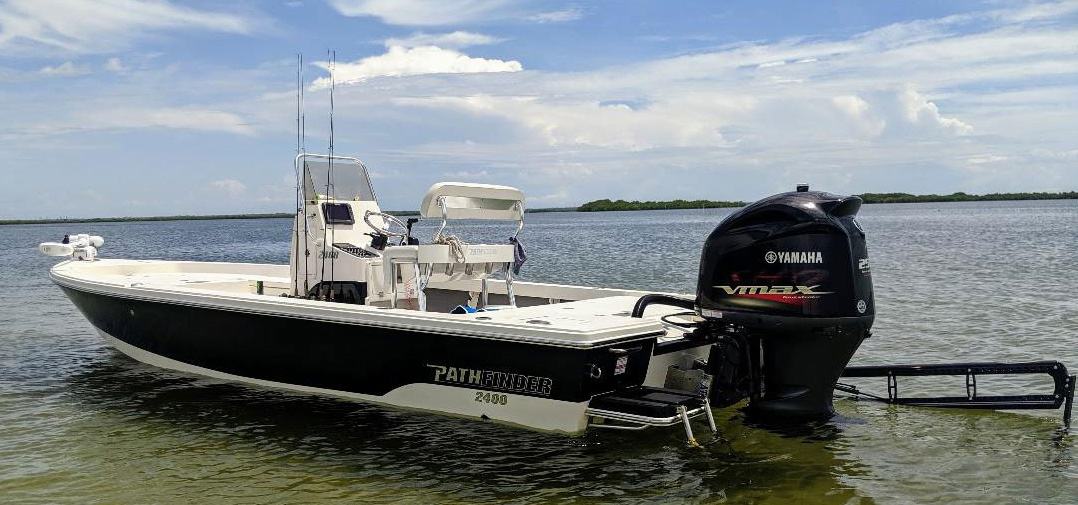 With over 20 years invested in fishing our local waters I have found that it takes a very special boat to handle the demanding situations that I put on a vessel day in and day out. After years of fishing out of small flats boats, flat bottom skiffs, and a variety of bay boats I have found that the only boat on the planet that could meet my high standards and still be versatile enough to fish both in the backcountry and offshore was a 24ft Pathfinder bay boat.
As incredible as the Pathfinder hull is it takes an extremely lightweight and reliable engine to change this boat from an ordinary bay boat into an extraordinary bay boat.  The 250hp Yamaha SHO was specifically designed for mid range bay boats that were looking for added horse power without the added weight of a typical 4-stroke.  The combination of speed and size make the pairing of the 24ft Pathfinder hull and the 250hp Yamaha SHO a match made in heaven.
Once the Pathfinder puts my anglers on a spot its very important to have a stealthy approach when targeting a wary school of giant redfish.  That's where the Minn Kota 101lb thrust trolling motor comes in handy. It's quite enough to sneak up on tailing redfish and has enough power to troll 4 anglers around Crystal River or Homosassa all day.  Once that big school of Redfish gets with in casting range a quick press of a button deploys the Power Pole off the stern making anchoring quick and easy.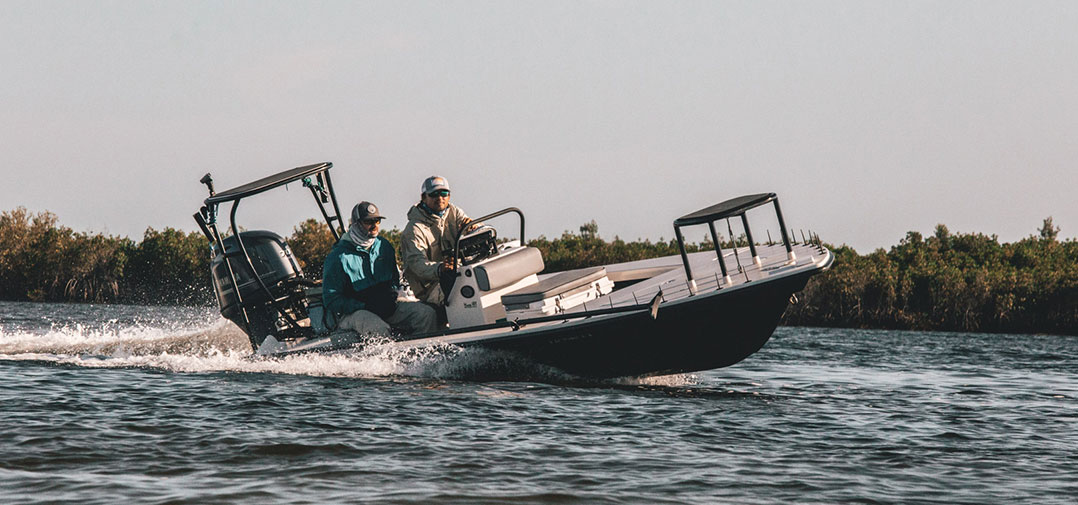 The Crystal River and Homosassa waterways are well known for their extremely clear and shallow waters.  In order to conquer these shallow waters I have added one of the shallowest drafting poling skiff on the market to my personal fleet.  My Maverick HPX-S weighs in at a minimal 425 lbs and drafts only 6 inches of water.  The extreme light weight of the hull can be attributed to the Carbon Kevlar material which it's built from.  This material is lighter, stronger, and more durable than the fiberglass used in most skiffs.
At 17ft this boat is smaller and more maneuverable than most of the other flats boats on the water today.  Although the size may be smaller Maverick is well known for developing boats with extreme shallow water capabilities that can take a chop.  The hull is designed with spray rails in the hull to deflect any water that may want to come into the cockpit area.  Another added benefit to this boat is that it is also self bailing and that definitely helps when an afternoon rain storm may fall upon our trip.
The first thing you'll notice when you step aboard my Maverick is that this boat means business.  A 425 lb hull paired with a 70 hp Yamaha 4-Stroke is a match made in heaven.  The light weight of both the hull and the engine and the added pocket tunnel allows this boat to basically run in wet mud.  One might ask "Why do you need to get in that shallow of water?"  When chasing tailing Redfish in ankle deep water you don't want to be sitting on the sidelines waiting for the tide to come in.  This boat doesn't need a tide, she goes where ever she wants, when ever she wants!!!
An added advantage of this boat is that it is completely equipped with a custom poling platform and casting platform.  I use the poling platform to push pole the boat around many of the creeks, cuts, and coves scattered throughout our area.  This is the stealthiest way to sneak up on fish and it also gives me a height advantage for spotting fish from a distance.  The casting platform is basically the anglers "office."  From this vantage point you're almost a foot above the deck making sight fishing easier and the method of choice on this boat.

Trophy Tarpon on a Fly Rod! Captain Kyle Messier guided a friend and myself on a 3 day tarpon adventure in June 2020. I will certainly never forget the experience of bringing in a huge tarpon on a fly rod. I have been fishing all of my life and have never had a more exhilarating experience pursuing this passion. I appreciate Kyle's skill, instruction, and patience as he guided me to this trophy catch of a tarpon that was at least 6 feet long and 150+ pounds! This was my second trip with him and I highly recommend Captain Kyle to anyone who wants to fish in the Crystal River/Homosassa Springs area - especially for tarpon.

Great day with Capt. Jeremiah Took my nephew scalloping with Capt. Jeremiah. What a perfect day. The Capt. made sure the experience was a memorable one. This is the second time we have engaged his services and would definitely use him again. His boat is clean and smooth riding. He is very knowledgeable

May fly fishing with Kyle Messier I met with Kyle for three days of fly fishing for Tarpon, Red Fish, and Snook in the Crystal River area. I had not fished with Kyle before and was pleased when he wanted to put out early in the morning at 5:30 to go fish for tarpon in Homosassa. We left the ramp in the dark and were on the water when the sun rose, a beautiful sight. Within minutes the tarpon bite was on and Kyle immediately went to work putting me onto fish. Kyle fishes with intensity and is keenly aware of what is happening in the water, seeing fish where I only saw water. We fished for three days together, and I enjoyed every day. I will be fishing with Kyle again and recommend that you give him a try when you are in the area. By the way, he recommended a wonderful seafood restaurant in Crystal River that is a must try, the Seafood Seller.

Great fishing in Crystal River My kids and I had a great time fishing with Captain Kyle. He put us on some great spots.I brought my 4 kids with me and at times we were having a hard time just keeping up with them. He grew up here and has all the knowledge of the area. It would be a mistake to use anyone else. I will definitely be booking another trip soon.

Fly Fishing Captain Kyle is a very knowledgeable fly fisherman and an excellent host as well. I booked two trips with him and was extremely pleased with his professionalism and hospitality during both trips. I was elated to see that his boat and equipment are top tier and that he keeps everything clean and organized. If you are looking for a great time on the water and enjoy catching fish on the fly or by conventional methods then look no further. As an avid fly fisherman I would highly recommend him to anyone no matter your skill set. I will definitely be returning for years to come!

Fishing trip Captain Kyle awesome fisherman. Epic day catching different species of fish. I have fished with Kyle for years and is the best fishing memories go fishing you will catch and have fun

The Reel Deal I got lucky selecting Kyle as a guide. Really nice guy and taught me a lot . Of course the main thing is to catch fish - which I did in spades ! And on a fly rig ! My arm ached the next day. Kyle is a native of Crystal River and grew up fishing there and knows the waters. I plan to return next year .

A true professional Kyle is an excellent guide. There was not a period of more than 20 minutes where we were not on fish. He worked his tail off poling through some serious wind. I had a great time and left with a lot of knowledge. If my casting was better I would have caught even more fish than we did. Highly recommended.

Catching fish and making memories Another year. Another trip in the books. Another successful day fishing with Captain Kyle. Over the last 8 years I went fishing with Captain Kyle multiple times and every time it's been great fishing and wonderful company.
We had such a good time we booked a second charter. Captain Kyle Messier took us on fishing/sightseeing charters through the mangrove shorelines of Crystal River and into deeper waters in The Gulf of Mexico. (The sightseeing portion of the trip was to keep me interested a non fisher) He was professional and positive as a fishing guide for both me, a total novice, and my partner, a much more experienced fisherman. He was very accommodating and picked us up by boat right from our VRBO rental on a canal. He came prepared with everything we needed to enjoy our time on the water. We caught mostly Redfish but a Sheepshead and a Lizard fish were also memorable. Other wildlife sighting highlights were Bald Eagle, Osprey, Great Egret, Anhinga, Wood Stork, White Pelican Colonies, Manatees and Dolphins corralling Mullet with a "mud net" and having a feeding frenzy. We will be booking more charters with Captain Kyle next time we are in the area.