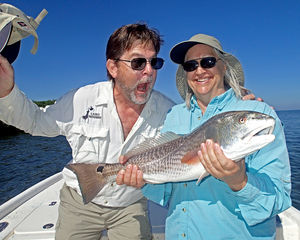 Finally!!! October is here and the gorgeous weather that this month is known for has not disappointed the visitors of the Nature Coast. With clear sunny skies and low humidity being the featured weather pattern this month Nature Coast anglers have been getting back to work reeling in some of the best and biggest fish of the year. Whether your interests involve inshore, nearshore, or backcountry fishing there have been a variety of species and techniques that have helped anglers keep a smile with a bent rod.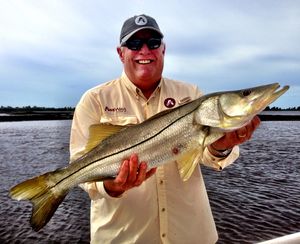 Cool fall air temperatures have helped stabilized local water temperatures around the 78-80 degree mark. Savvy anglers know that the magic water temperature number is 78 degrees. At 78 degrees most fish species begin to feel the pinch of the winter season approaching and thus their feeding patterns begin to increase as they try to build up fat for the winter. Increased feeding patterns will be a welcomed sign for fishermen/women who will soon be spoiled with a plethora of new species that will be making their way onto our local flats to feed like crazy before heading to their winter hangouts.
Speckled Trout, Pompano, Permit, Snook, Sheepshead, and Gag Grouper will be just a few of the featured species this month and believe it or not at times all of these species can be targeted with in the same day. Areas of structure such as oyster bars, rock piles, and limestone flats will be great areas to target all of these species. Multi purpose baits and lures such as Live Shrimp under a popping cork and jigs tipped with shrimp are all great baits for targeting multiple species. The key when targeting areas with a variety of species is to keep an eye on a hooked fish as it approaches the boat. Often a struggling hooked fish will bring in a variety of other species.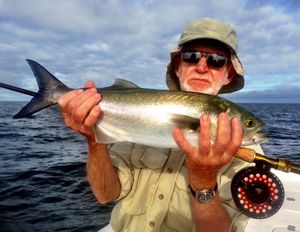 As the fall season continues to shine on our backcountry waters, the Stellar Redfishing that our area is known for will continue to thrive with more and larger Redfish showing up in the backcountry waters on a daily basis. Most of our summer Redfish have been gorging themselves in the extreme backcountry waters due to the incredible summer high tides. As these major flood tides begin to subside, most Redfish will once again be drawn to many shallow shorelines and rock flats in hopes of hitching a ride with a school of mullet. This time of year the number one goal for targeting Redfish is to find the Mullet!!! If you find the mullet the Redfish will not be far behind.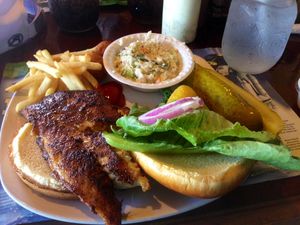 Speaking of Redfish during your next outing on the Crystal River think about a fresh blackened Redfish sandwich courtesy of Peck's Restaurant in Crystal River. Nestled in the backcountry waters of Ozello, Pecks is hands down one of the finest seafood restaurants along the Nature Coast and their signature blackened fish sandwiches are definitely crowd pleasers!!!!