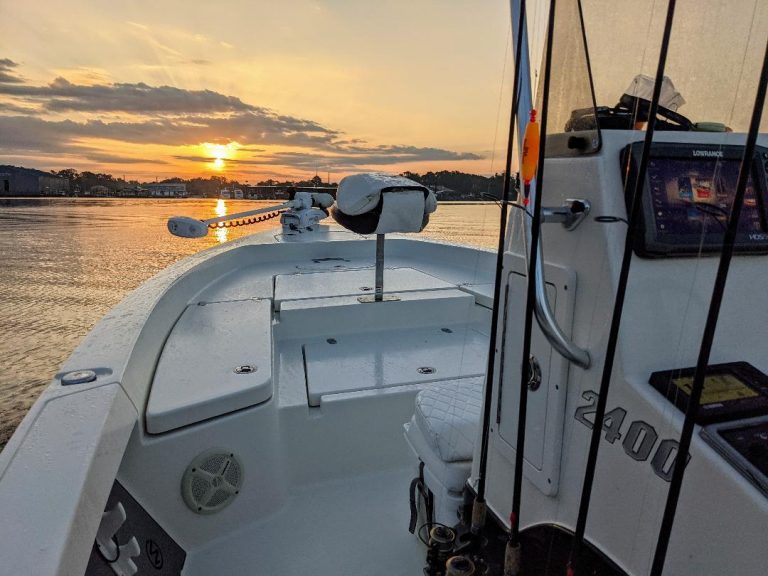 There are many witty phrases thrown around loosely within the fishing community and arguably the most widely recognizable is "the early bird gets the worm." Any half witted person can use their imagination to understand the meaning of this phrase but savvy anglers will tell you that certain seasons and species of fish require being one of those early birds to find success.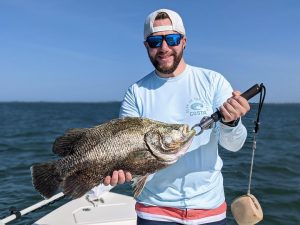 For me being an early bird means hitting the water before sunrise so our first casts are in the water as the sun starts to crack the horizon. Hooked jaw fish including Speckled Trout, Snook, Tarpon and Tripletail love those early morning hours as the sun is still dim enough that these fish can feed freely close to the surface without worrying about the blinding sun in their eyes. Because many tasty prey species including needlefish, pipefish, and ballyhoo reside close to the surface during the daylight hours anglers will find that throwing lures and fly's that float on or near the surface will lead to some incredible hookups. Topwater lures such as Rapala Skitterwalks and DOA Jerkbaits are ideal lures to tease hungry fish to the surface this time of year and those anglers throwing a fly rod will find using a Gurgler or Popper style fly to be extremely successful especially as the summer heat and humidity kick in.
On bright sunny days I have found the truly successful window for throwing surface lures and flies to be 2 hours after sunrise and 2 hours before sunset. The in between time frame between 10:00a.m-3:00p.m. when the sun is the brightest is an ideal time to target sight fishing opportunities as the sun will reach a point where bottom visibility will be the most pristine.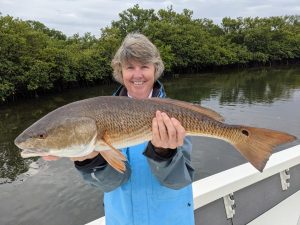 When we talk about sight fishing possibilities this time of year both Redfish and Tarpon come to mind as these are the two most prevalent inshore species inhabiting the waters of Crystal River and Homosassa this month. Although Redfish prefer extremely shallow backcountry waters Nature Coast Tarpon usually trend towards shallow flats in the 4-6ft of water range. Sight fishing both of these species is as simple as just laying your eyes on them. Redfish tend to blend in extremely well with the golden limestone bottoms they reside on. One trick that I have found is for anglers to look for the pink pectoral fins on a Redfish. Pink in general is a color that sticks out extremely well along the green mangrove laden backdrops.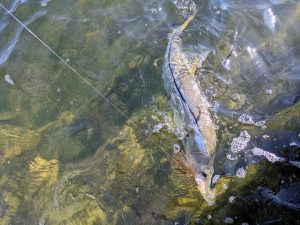 When it comes to sight fishing Tarpon on the other hand this is probably one of the hardest fish to spot, stalk and sight fish, which is why it's so rewarding when you hook up. One would think that a fish pushing well over 100lbs would stick out like a sore thumb but as the old saying goes "fish do not get BIG by being stupid." Large Tarpon often move stealthy over green grass flats in hopes that their green backs will help disguise them from unwanted predators and anglers. Searching for out of the norm/ needle in haystack impressions in the water is the only real way to locate these fish when they are not obviously on the surface rolling. Flattened out areas of choppy water is the key indicator that I search for the most. Often this area of flattened water usually leads to a "daisy chaining" group of fish that on most occasions could be extremely hungry. Air bubbles and tail spikes protruding from the water are just a few of the other signs we look for as well when searching for the Silver King.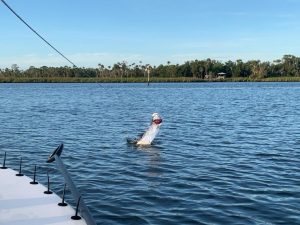 With so many species to shoot for and so little time, try becoming an early bird this summer. The benefits could far exceed your expectations!!
Capt. Kyle Messier
(352) 634-4002