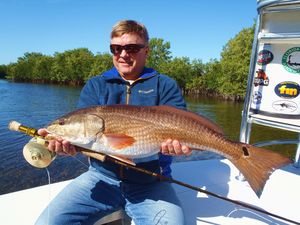 As we said goodbye to 2013 and ushered in the New Year I can't help but think how great 2013 was for Florida Fishing Adventures and all of our anglers. First it was the incredible Sheepshead action that jump started our year, followed by some great Spring Spanish Mackerel and Cobia action. The months of May-July provided us with another epic Tarpon season and our Scallop season was off the charts again. We finished off the year with our Bonita run lasting until early December which was perfect timing for the Best Redfishing of year being featured for Christmas. All in all like many visitors along the Nature Coast I for one am excited about the prospects of the New Year.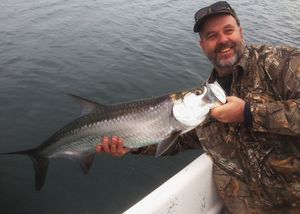 The New Year has already been very generous to us. With our weather and temperatures still holding on to their pleasant status Florida Fishing Adventures has already guided its first angler to a Tarpon this season. Tarpon in January are fairly rare but the Crystal River and Homosassa areas do hold a resident population of fish that from time to time are more than willing to take a bait or fly. Targeting these challenging game fish requires lots of patience but a few dozen shots a day are possible when the conditions are perfect. Most Tarpon this time of year will run an average of 50-70lbs but we've already hooked a couple of fish that would have tipped the scales at 150lbs plus.
As unique as our winter time Tarpon fishery is another hidden gem of the Nature Coast is our outstanding Snook fishery. Over the last decade our resident Snook population has exploded into what my biased opinion would call one of the best Snook fisheries in the state of Florida. Snook historically have been considered a tropical species not venturing very far from tropical climates and water temperatures. However, our local Snook population has fell in love with our 72 degree year round water temperatures and with the sizes of many of our Snook pushing over 40" it looks as if our Snook fishery will only continue to get better over the coming years.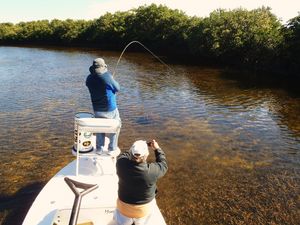 The staple of Nature Coast fishing during the coming months will continue to be the excellent skinny water Redfishing found along the shallow flats stretching from Crystal River to Homosassa. The Ozello Keys is the middle ground between these beautiful pieces of real estate and with vast areas of shallow crystal clear flats teaming with tailing Redfish this is the best time of year for targeting these hard fighting fish in the shallowest of waters. Typically most of our shallow water fishing is done by sight fishing to individual fish with both spin and fly gear. The subtle presentation of a free lined shrimp is a reliable way to put a bend in a rod but for anglers that love a challenge throwing flies to unsuspecting fish will yield some impressive results. Just ask Peter Just who landed his personal best 37" Redfish while fly fishing with Reel Florida Fishing Charters.